Chiropractor Francis Raines D.C.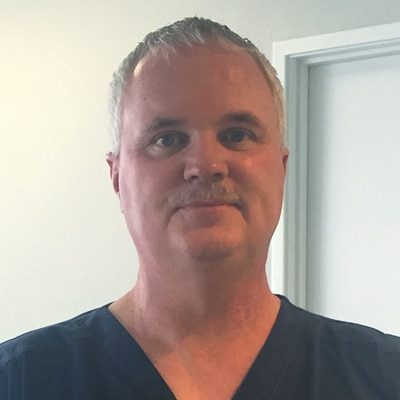 C1 Chiropractic is centrally located in the Spring Valley area, on the West side of the Las Vegas Valley, to provide easy access for his patients.
I chose to practice as a chiropractor in Las Vegas nearly 25 years ago. My family was here when I graduated from chiropractic college, LACC.
My parents moved to Las Vegas from San Luis Obispo, CA. My father was an optometrist in Las Vegas for 10 years. When I graduated, I purchased my office right across the courtyard from my father's practice. It was great! We had lunch every day..his treat! I was lucky to have this time with him as he passed away from an abdominal aneurysm within a few short years. My parents taught me a great deal about giving excellent customer service that is so appreciated but not always given.
Our office is different in several ways. Our team is caring and supportive of our patients. From our attention to detail in the delivery of care to the details of administrative paperwork. We provide a smooth and easy transition in delivering a positive chiropractic experience for our patients.
---
C1 Chiropractic is owned by a qualified, licensed chiropractor, committed to providing recovery and rehabilitative care to patients in the Las Vegas Valley.
Dr. Raines has been practicing chiropractic for over twenty-two years and has treated hundreds of patients, of all ages, from children to adults. His focus is to provide optimal care to each of his patients in a modern setting.
Dr. Raines has been trained in diversified technique and offers state of the art digital x-ray, cold laser therapy as well as other therapies.
---
Educational Background
Bachelor of Arts - University California Davis
Doctor of Chiropractic Degree - University of Southern California Health Sciences ( formerly Los Angeles Chiropractic College)
---
Dr Raines is married with two grown daughters, both are Registered Nurses and he has two grandsons. His family has lived in the Las Vegas Valley since 1972.
OFFICE HOURS
---
Monday
9:00am - 12:00pm
2:00pm - 6:00pm
---
Tuesday
9:00am - 12:00pm
2:00pm - 6:00pm
---
Wednesday
9:00am - 12:00pm
2:00pm - 6:00pm
---
Thursday
9:00am - 12:00pm
2:00pm - 6:00pm
---
Friday
9:00am - 12:00pm
2:00pm - 6:00pm
---
Saturday
By Appointment Only